New Intensive Courses in English (NICE)-10-week
NICE is accredited by the Commission on English Language Program Accreditation for the period August 2011 through April 2022 and agrees to uphold the CEA Standards for English Language Programs and Institutions. CEA is recognized by the U.S. Secretary of Education as a nationally recognized accrediting agency for English language programs and institutions in the U.S. For further information about this accreditation, please contact CEA, 1001 North Fairfax Street, Suite 630, Alexandria, VA 22314, (703) 665-3400, www.cea-accredit.org. All aspects of the program have been critically reviewed by experts in the field of English as a second language, and so students and sponsors can be sure that NICE is among the best intensive English programs in the U.S.!
---

NICE CURRICULUM
FOUR CORE CLASSES
All full-time students take FOUR 50-MINUTE CORE CLASSES Monday through Friday. These classes work together to provide a well-rounded English study program that emphasizes speaking and listening, but also includes reading and writing. All classes integrate these skills into the learning experience, with some classes focusing on one particular skill.
GRAMMAR: Work on the STRUCTURE of English needed to communicate clearly and accurately in speaking and writing, in both formal and informal settings.
LISTENING: Focus on COMPREHENDING spoken English in various contexts. Course format includes listening to textbook-related and real-world audio/video material, learning note-taking skills, understanding vocabulary in context, and discussing content.
ORAL PRODUCTION: Build ORAL FLUENCY with emphasis on the functions of the language and pronunciation for a variety of speaking situations. In this class, students build up their confidence as they participate in discussions and debates, give oral presentations, complete class projects focused on speaking.
INTEGRATED SKILLS: Use and expand speaking, listening, reading, and writing skills through the study of a variety of interesting topics. In this class, students work on blending the four skills through class activities and integrate productive and reception skills in a variety of contexts.
Interchange — speaking practice sessions with University of Hawai'i students — is an important component of the curriculum of the Oral Production and Integrated Skills classes. NICE students meet with UH students once a week in each class. Under the instructors' direction, they practice the skills they are learning, share cultural insights, and build relationships.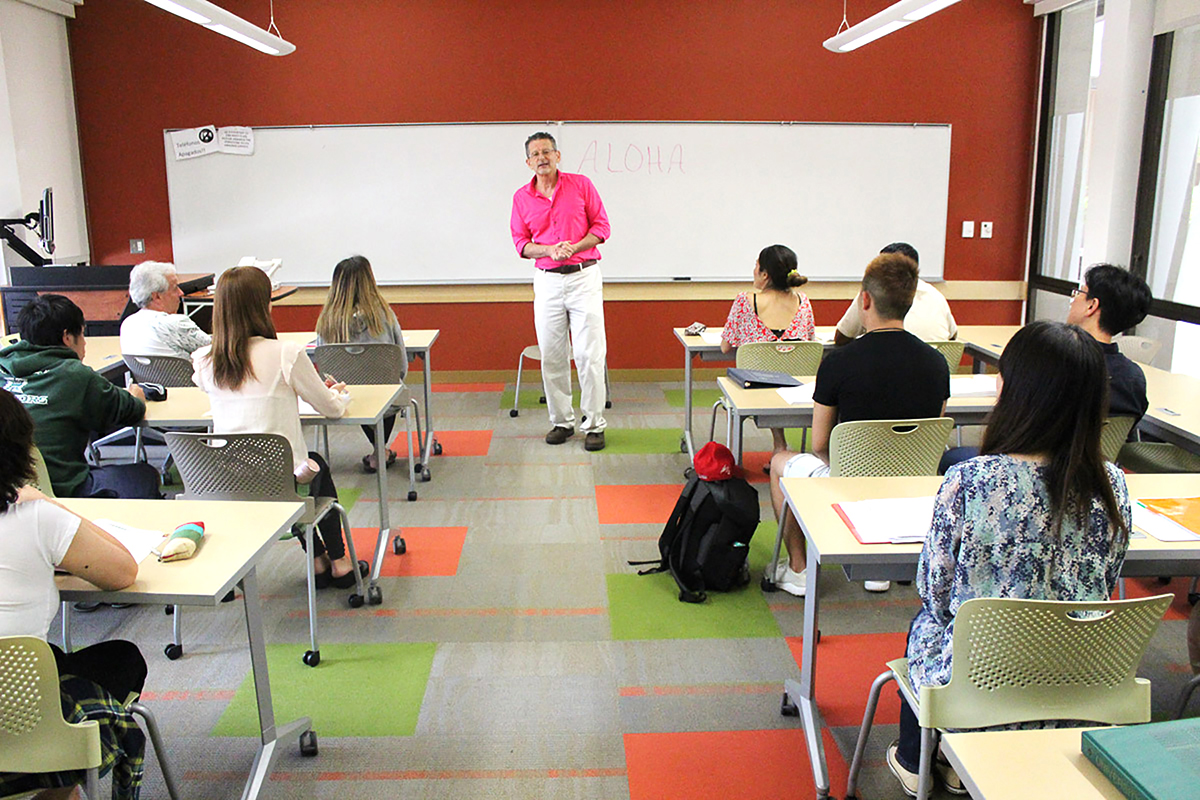 COURSE GOALS AND CURRICULUM THEMES
All four NICE classes have language learning goals and objectives for each level. In addition, the Oral Production and Integrated Skills classes are organized around themes related to student's goals for studying English, focusing on academic, professional, or general subject matter. Whenever possible, students with similar goals are grouped together.
FIVE LEVELS
The four core classes are offered at these levels: Basic, High Basic, Intermediate, High Intermediate, and Advanced.
A BASIC level student should have some prior English study, should be able to comprehend simple vocabulary and communicate with words, short phrases, and gestures.
An ADVANCED level student has a good grasp of the language, still working on perfecting complex language structures, and natural and appropriate use of the language.
LEVEL PLACEMENT
New students take FOUR (4) placement tests on the first day of the session to determine their level in each class:
a grammar test places students into Grammar levels;
a listening test places students into Listening levels;
on oral interview places students into Oral Production levels;
a writing test, along with the other tests, places students into Integrated Skills level.
Occasionally, it is necessary to blend two levels when there are not enough students to warrant two separate levels. NICE teachers have the training and experience to teach blended levels effectively.
EVALUATION AND ASSESSMENT OF PROGRESS
Each class and level has two sets of curriculum, Curriculum A and Curriculum B. Students move to the next level after successfully completing BOTH Curriculum A and Curriculum B (two terms) OR by demonstrating that they have met all of the learning goals of the level.
Teachers assess students' progress on Student Learning Outcomes through activities that demonstrate whether the student has met the goals and objectives of the class and level. Each student receives a course evaluation at the end of the term. Attendance is an important part of the evaluation.
CLASS TIME
All core classes meet Monday through Friday, except on state and federal holidays. NICE classes may be offered throughout the day, from 8:30 am – 4:20 pm. However, most classes are offered in the morning from 8:30-12:20.
---
NICE MISSION STATEMENT
The mission of the New Intensive Courses in English (NICE) is to equip speakers of other languages with the language and cultural skills necessary for success in today's global society in academic, professional, and social contexts. To fully serve students with different goals, the program offers a full-time program that emphasizes oral communication and cultural competence by:
Providing a flexible curriculum suited to the students' interests, needs, and abilities while adhering to the overall curriculum guidelines for each course;
Specializing in innovative methods for teaching listening and speaking skills;
Developing and practicing real-world listening and speaking tasks, which include authentic readings as input and realistic writing as output;
Maximizing opportunities to use the communication skills learned in the classroom on campus and in the community;
Providing a culturally diverse, enriching, and supportive learning environment while fostering a sense of "aloha."
Required fields are indicated by .