New Intensive Courses in English (NICE) - 3-week
Three-week sessions offered in Winter, Spring, and Summer
This interactive English language program focuses on COMMUNICATION, CULTURE, and COMMUNITY. NICE maximizes the students' time in Hawai?i through in-class and off-campus activities that provide an intensive, yet fun, experience learning English while immersed in the life and culture of Hawai?i. If you are 16 years or older, join us for an enriching study abroad experience like nowhere else in the world. University groups are welcome.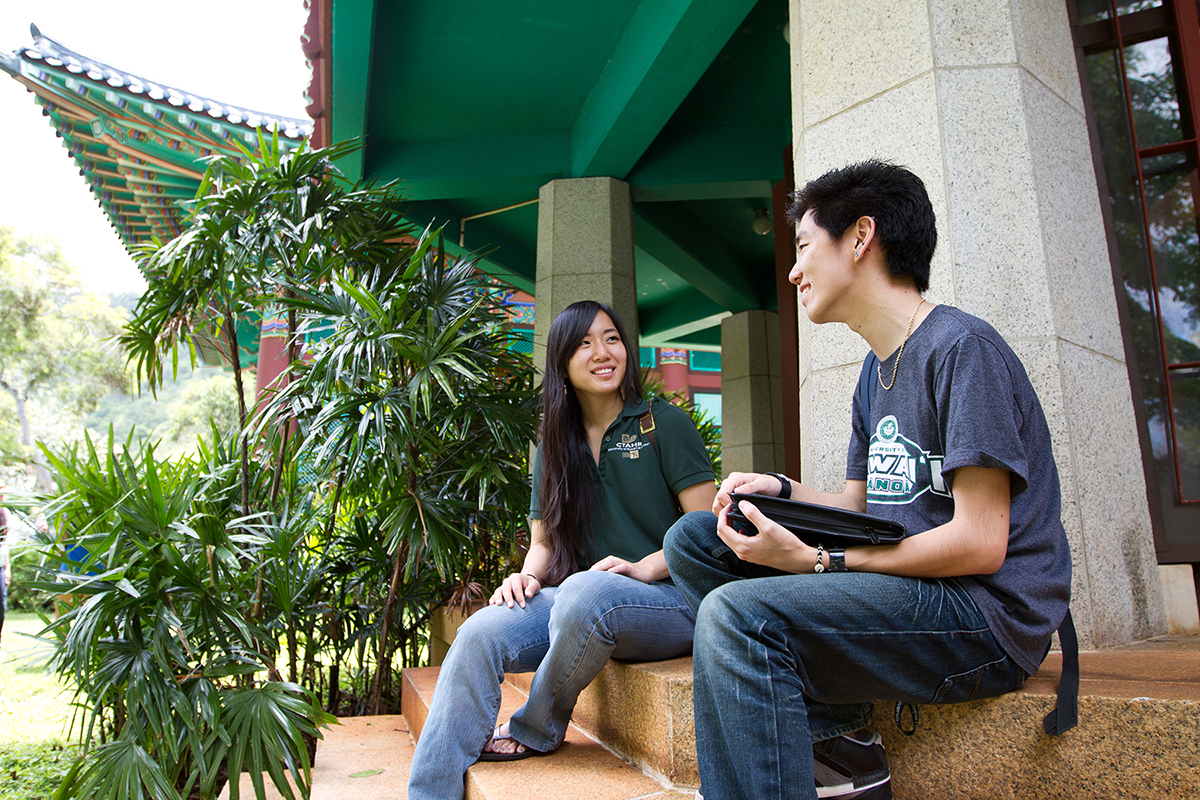 PROGRAM HOURS
Winter NICE (February): 12:30 pm – 4:20 pm, Mondays - Fridays
Spring NICE (March): 12:30 pm – 4:20 pm, Mondays - Fridays
Summer NICE (August): 8:30 am - 12:20 pm, Mondays - Fridays
PROGRAM FEATURES
ORIENTATION and CAMPUS On the first day, students receive orientation to the program, the university, and the community, including practical safety tips and a tour of the beautiful University of Hawai?i campus.
LEVELS On the first day, students are given a short oral interview with a teacher and are then placed into one of five levels: Basic, High Basic, Intermediate, High Intermediate, Advanced.
CURRICULUM Designed to help build oral proficiency, each level has learning goals that focus on speaking. Class activities may include:
pair and small group activities
role-plays
discussions and debates
structured and unstructured conversation exercises
campus surveys
mini oral reports
oral presentations
All students complete a final speaking project during the final week.
OFF-CAMPUS COMMUNITY ACTIVITIES Classes are held off-campus two times during the session. Example community activities include museum visits, cultural events, historical downtown walking tour, Pearl Harbor visit, visit to a local business, etc. (Note: Students should plan to spend $25 or less on these required activities.)
INTERCHANGE Students speak English with University of Hawai?i students through "Interchange" five times during the session. Teachers provide tasks connected to the curriculum, and sessions held in a casual atmosphere that encourages interaction.
CULTURE WORKSHOP Once each session, a "kumu hula" (hula teacher) teaches students about one of the most beautiful and important aspects of Hawaiian culture, the Hawaiian hula. Students learn to dance a simple hula in just a couple of hours!
OPTIONAL EXCURSIONS Extracurricular excursions to popular sites and events are offered in the evenings or on weekends. Students receive detailed information about the activities soon after registering for the program. Activities and costs vary from session to session. Examples include Hawaiian luau and show, UH sports' event, hiking, zoo picnic & concert.
EVALUATION Each student receives an official Student Evaluation of performance and attendance. Upon request, and with student authorization, the program will provide a copy of the evaluation to a student's home university.
CLOSING CELEBRATION/CERTIFICATE On the last day, everyone gathers for a closing celebration and lunch. Students make speeches and provide fun entertainment. Students who meet performance and attendance requirements receive a University of Hawai?i certificate.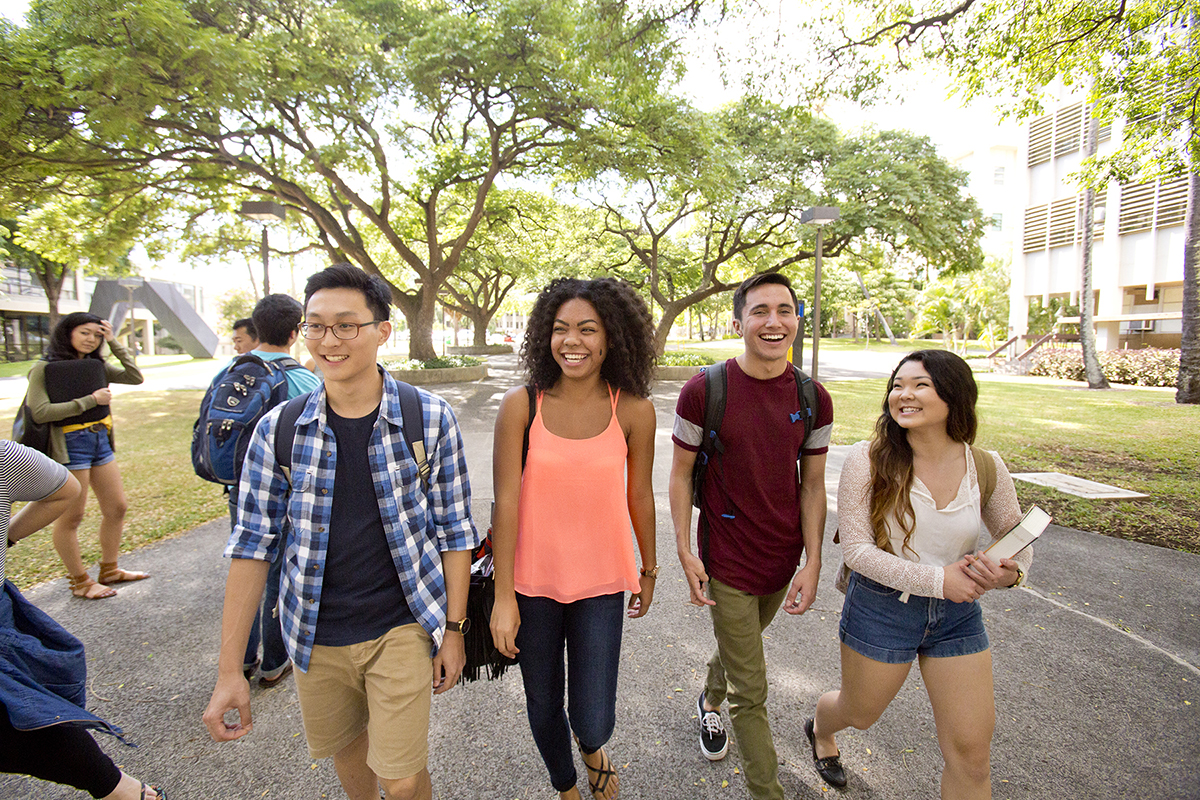 FOR MORE INFORMATION ABOUT THE PROGRAM:
VIEW OUR 2019 3-WEEK NICE FLYER
VIEW THE 2019 WINTER/SPRING NICE SCHEDULE
FREQUENTLY ASKED QUESTIONS (FAQ)
APPLICATION INFORMATION
ELIGIBILITY
3-week NICE welcomes applicants from all countries.
3-week NICE accepts students from beginning to advanced levels.
3-week NICE students must be 16 years or older by the program start date. Students under 18 years of age must be accompanied by a responsible adult during their stay in Hawai'i.
VISA INFORMATION
Because the 3-week NICE sessions are short, part-time programs, students may enter the U.S. on a tourist visa (B2) or visa waiver (ESTA). The study program is considered "incidental" to the visit. Students who intend to continue studying in the U.S. after completing the session should contact the NICE office or the US Embassy for advice on visa types.
HOW TO APPLY
Individual students: Please apply and pay with credit card on line. (Contact the NICE office if you are unable to do this.)
Group Sponsors: Please contact the NICE office for information regarding the application and payment process for your group.
WHEN TO APPLY
For individual students, the application deadline is one month before the program start date. However, we recommend applying much earlier as applications are accepted on a first-come first-served basis until the program is full.
For groups, the application and payment deadline is two months before the session starts.
ADDITIONAL REQUIREMENTS UPON ARRIVAL
All new students must complete final registration at the new student orientation on the first day of the program. Students will need to bring the following:
1. Hawaii Address
2. Proof of Medical Insurance
Medical insurance should be purchased in the student's home country, if possible. Students who do not purchase medical insurance in their home countries may also purchase medical insurance online upon arrival. Students without medical insurance will not be allowed to attend classes.
QUESTIONS?
Email us at ipinfo@hawaii.edu or phone us at (808) 956-7753.